Tallowmere 2: Curse of the Kittens
Version 0.2.6 – Gameplay option added: Hold to Attack
---
NEW OPTION
HOLD TO ATTACK:

Allows weapons to be used repeatedly by holding down the Attack action.
Available under Options > Advanced.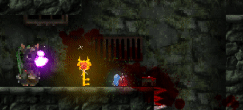 ONLINE CO-OP
Fixed an issue where client room numbers could become out of sync. Room transitions are now more robust.
Added messages if the server is waiting for players to load before allowing a room transition to occur.
Improved reconnection messages if a game does not appearing to be running. Now provides suggestions to load the game, or to refresh the list of games.
Fixed an error when attempting to load a saved game from a server.
Fixed a server error if a client disconnected when a game was being restarted.
Addressed issues with clients receiving incorrect potion messages.
COUCH CO-OP
Reduced intensity of stun particles on player HUDs.
Fixed an issue where particle density options would not be applied to player HUD particles.
Fixed an issue where poison particles were not appearing on player HUDs.
Fixed an issue where poison particles would persistently appear after changing screen resolution or UI scale.
GAME CONTROLLERS
Windows & macOS: Added support for PlayStation 5 controllers with InControl Native.
macOS: Fixed issues with Nintendo Switch Pro Controllers.
Fixed a controller-related error when quitting the game.
ERROR MESSAGES
Critical error messages are now hidden by default.
Added option to display error messages. Available under Options > Advanced.
OTHER FIXES & IMPROVEMENTS
Simplified Chinese: Updated many strings regarding health, potions, and room modifiers.
InControl: Updated to 1.8.4.
Menus: Fixed top-right Refresh and Delete buttons not working with game controllers.
Fixed an error when sending session statistics.
Addressed a rare internal error when creating dungeon entities.

Version 0.2.6a
SIMPLIFIED CHINESE

Files
Tallowmere2_v0.2.6_Win64.zip
145 MB
Mar 25, 2021
Tallowmere2_v0.2.6_Mac64.zip
145 MB
Mar 25, 2021
Tallowmere2_v0.2.6_Lin64.zip
148 MB
Mar 25, 2021
Get Tallowmere 2: Curse of the Kittens