Tallowmere 2: Curse of the Kittens
Kitten Creator & Name Credits for Early Backers
---
MEOW
Emails have been sent out to the 50 Early Backers that helped back Tallowmere 2 in 2020.
Part of the reward for being an Early Backer was the ability to name a kitten in-game, and have the backer's name be credited in-game.
Working to fulfil this goal, Early Backers now have access to a Kitten Creator form on tallowmere2.com, to help create their kittens to be added to Lady Tallowmere's dungeons in a special upcoming kitten collectathon dungeon run.
In total, there will be 92 kittens to add to the dungeon.


KITTEN CREATOR
If you are an Early Backer and log into your account, the Kitten Creator form will let you submit your kitten.
You can enter the kitten's name and subtitle, and choose a fur colour, eye colour, hat, and reward to grant to the player upon rescuing your kitten.
There are 18 new fur colours and 23 new hats, so I hope the options will be fun to choose from!
Here is a preview of the form: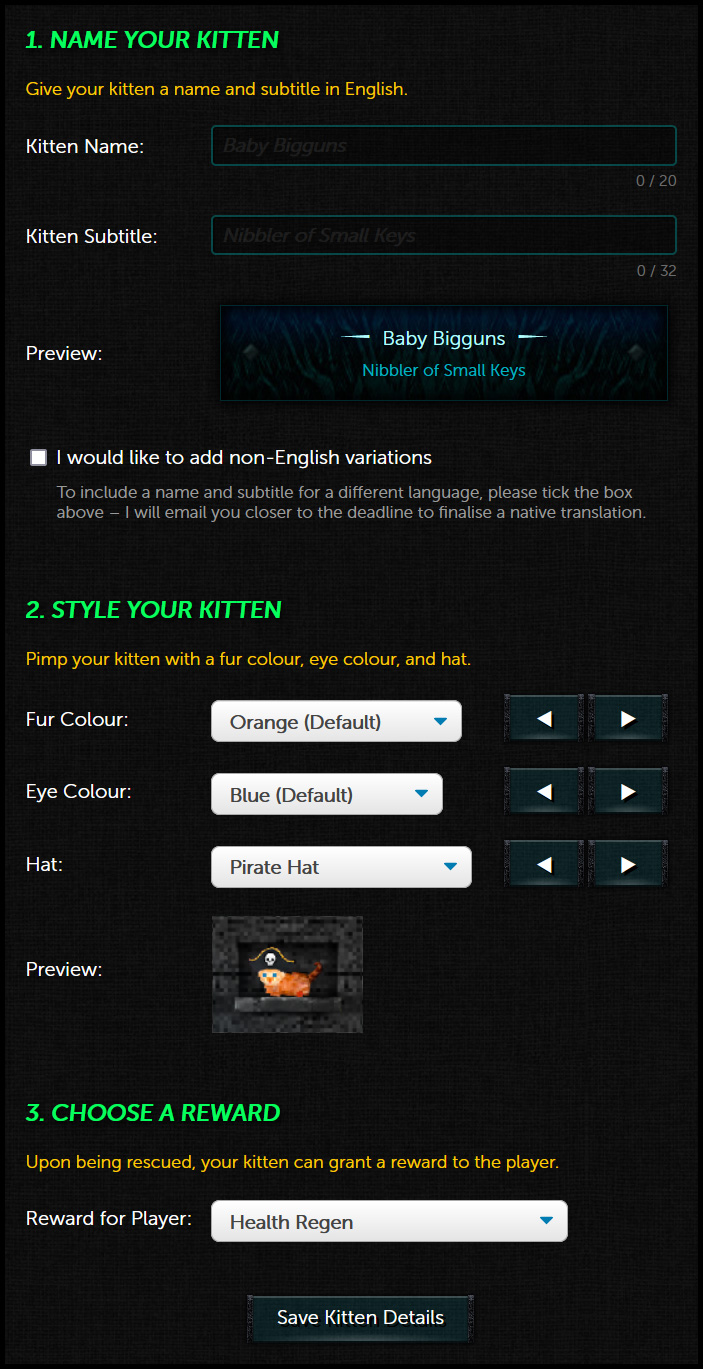 The rewards to grant to the player are largely based on what you can acquire from the Demon Statue, including its Mystery Rewards.

DEADLINES
For now, I don't have strict deadlines – Early Backers can enter their name and kitten details, and edit adjustments afterwards. When I have a concrete deadline set in the coming weeks, I will email again with a heads-up to confirm the date before locking in entries.

Guard-naming rewards and the upcoming Bastardly Boss are still in the pipeline – I am working towards these goals still. There have been so many tasks to help improve the game, and still more to do!
If you were an Early Backer but haven't received an email with your login details, please check your spam folder. If something is still amiss, please leave a comment or send me a message.
I look forward to adding the kittens to the dungeon!
– Chris


Get Tallowmere 2: Curse of the Kittens